12 Easy and Simple Bullet Journal Monthly Spreads
Simple Monthly Spread Ideas for Bullet Journal Beginners and Beyond
Wow, we've come to the Monthly bullet journal section already! This article will show you 12 easy and simple bullet journal monthly spreads that you can use for your own bujo.
p.s. If you see the words "monthly log" or "monthly spreads", they mean the same thing 🙂
Give yourself a pat on the shoulders, well done!
Feel free to repin the ones you like for easy reference and remember to subscribe to us to receive your monthly FREE bullet journal inspiration email 1 week before every new month!
TOOLS:
Before diving in, I would like to share with you the materials that I wish someone had shared with me when I first started my bullet journal journey(tongue twister haha) instead of the overpriced books and markers that the pros always recommend.
Getting these good basics tools will allow you to explore and find out if you like bullet journalling without spending a bomb. Plus, they can last you for quite awhile.
I use this notebook now, which is a good but cheaper(less than half the price) alternative to the popular favourite Leuchtturm1917.
These colorful markers have a broad tip and fine tip that you can use for most of your decorations. My favourite!
These stencils are less than $10 and there are 20pcs of all kinds of shapes that you can play around with. Super fun.
Yup, that's all you need for a start! 🙂
If you are a beginner, you can start here.
p.s. Don't say we didn't share- NOW WILL BE A GREAT TIME to stock up on things you need on Amazon (including your bullet journal supplies!) because they are having a great sale!
This is the 4th article of a 5-part series on Bullet Journal for Beginners.
What is Bullet Journal Monthly Layout?
This is the gist of the entire bullet journal! You can add sooooo many things to this section. You can add music log, book log, habit trackers, food trackers, fitness trackers and so much more. I'm so excited to share them with you. Let's go on.
So basically a Monthly Log is a two-page spread which includes a calendar with a bird's-eye view of the month and a task page with things you want to tackle during the month.
This is how it looks like: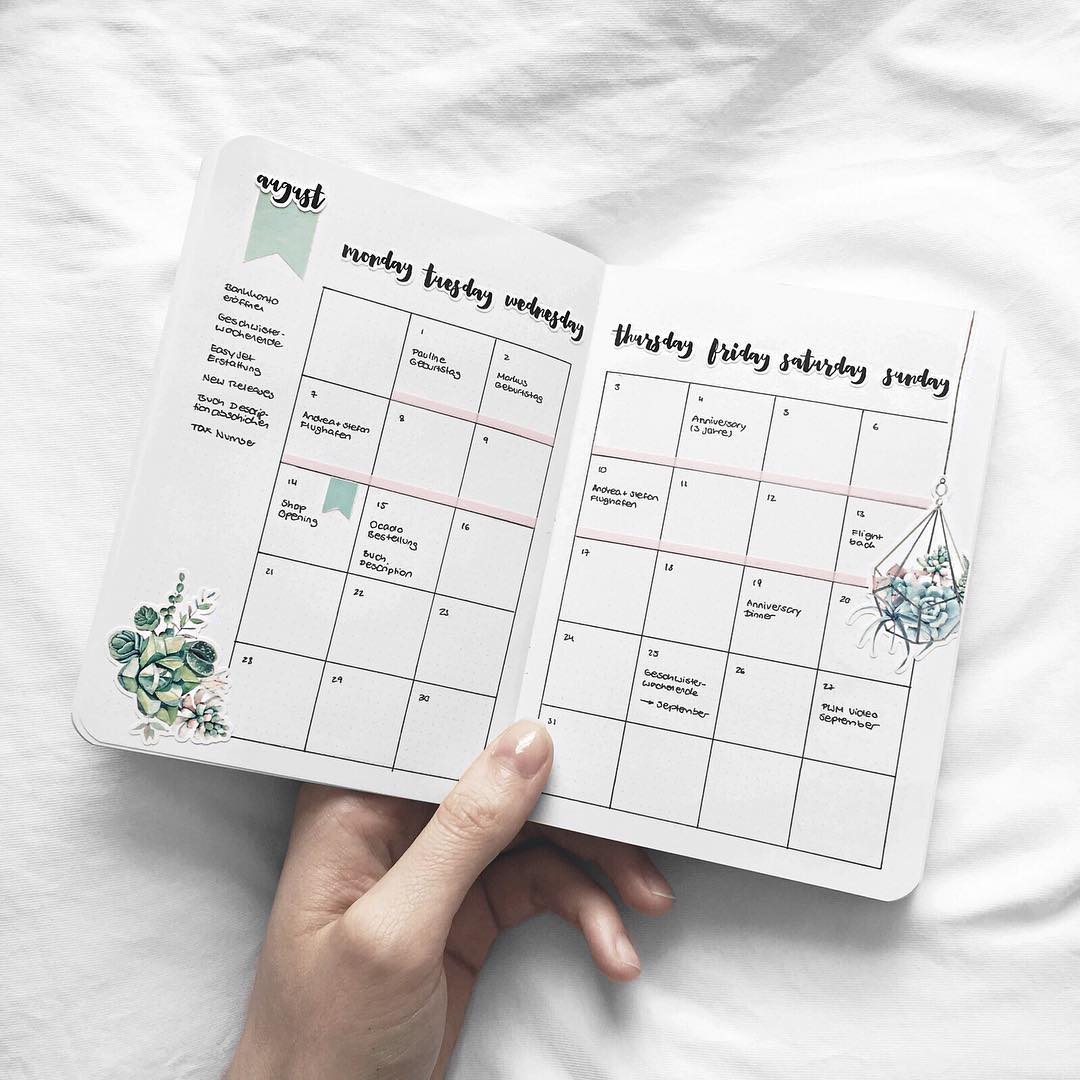 So clean and pretty right?
There are so many gorgeous ones that you can try out.
I written another post that shows a list of beautiful yet easy to follow Monthly spreads that you can use, and you can view them here.
If you would also like inspirations and ideas on Weekly spreads, you can see them here!
In this post, I will give you some ideas on what other categories you can add in your bullet journal that you can track monthly.
Bullet Journal Monthly Spread
Tracker Ideas
You can track almost anything. Things that you are already doing in your life or implement new ones to improve your current state.
Here are some great ideas to make your life more productive, save more money and have a healthy lifestyle.
Bullet Journal Expense Tracker
I find this really helpful because there are so many different bills to pay and sometimes you will just lose track on the payment deadlines and may miss some payments.
Here's a great and neat example that you can use to track your bills.
Bullet Journal Cleaning Schedule
You can set aside the different days for different chores to clean do your chores more effectively. Planning and writing it out definitely helps you become more organised and systematic.
You can set daily, weekly, bi-weekly, monthly and even yearly ones for different type of chores. Here are some great examples that I love!
Bullet Journal Tracker
I use this alot as you can track several habits in one page, keeping you motivated to complete as many as you can. Giving you the sense of achievement each time you colour or indicate a box when you've done it.
Here are some great inspirations and ideas you can use for your own habit trackers!
Bullet Journal for Fitness
You can also design a fitness bullet journal for yourself, creating a 30-Day challenge or simply to plan different workouts for different days. Lots of ways to do it!
Fitness Tracker Bullet Journal
Workout Bullet Journal
Bullet Journal Fitness Tracker
Hope this article gives you some great and interesting ideas that you can add in your bullet journal.
Lastly, let's go to our final article on Weekly Spreads here!
Your favourite source of bullet journal ideas.
You can easily find the best bullet journal ideas and inspirations in neatly organised categories HERE 🙂
Feel free to repin the ones you like for easy reference and remember to subscribe to us to receive your monthly FREE bullet journal inspiration email 1 week before every new month!
---